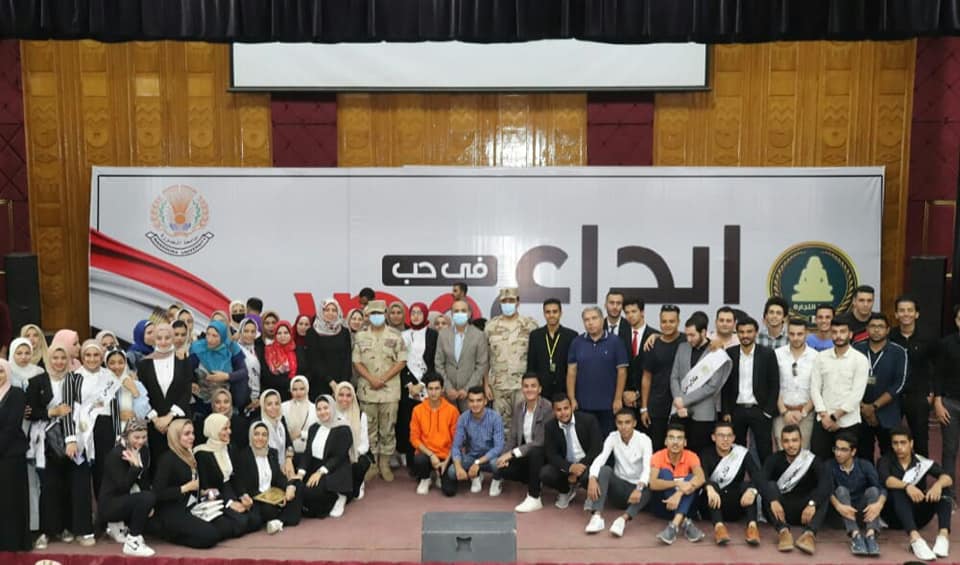 On the sidelines of the college's celebrations commemorating the victories of the glorious October War, the college held a poetry symposium on October 28 entitled "Creativity in the Love of Egypt", under the patronage of His Excellency Prof. Dr./ Ashraf Mohamed Abdel Baset - President of the University, and Prof. Dr./ Mohamed Attia Al-Bayoumi - Vice President for Education Affairs The students and the leadership of Prof. Dr. Tarek Ghallush - Dean of the College, and the supervision of Prof. Dr. Mona Sayed Ibrahim - Vice Dean for Education and Student Affairs, and the organization of Mrs. Dr. Hana El Gohary - Student Activities Coordinator at the College and the Department of Student Welfare at the College and Students' Family for Egypt.
The attendance of:
Colonel/ Tamer Al-Awadi - Military Adviser to Dakahlia Governorate.
Brigadier General/ Wael Abdel Qader - Director of the Military Education Department.
Colonel / Khaled Adel - Deputy Director of the Department of Military Education.
And a group of faculty members.
Where the activities of the symposium included a poetry paragraph by the poet / Abdullah Hassan.
The awarding of prizes and certificates of appreciation to the winning students in the "Creativity in Love of Egypt" competition.