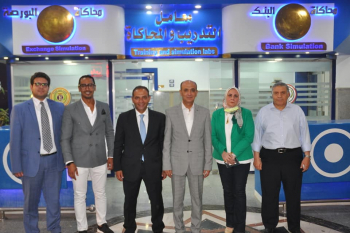 Within the framework of the endeavor of the Faculty of Commerce, Mansoura University, to link between theoretical study and practical application. The first seminar was held under the title "Your First Steps to Be a Certified Financial Investor and Analyst"
Under the patronage and presence of Prof. Dr. Tarek Mostafa Ghallush - Dean of the College, Mrs. Prof. Samah Tarek Hafez - Vice Dean for Community Service and Environmental Development Affairs, and Mr. Prof. Saad Abdel Hamid Mutawa - Professor of Finance in the Department of Business Administration and Director of the Center for Financial and Banking Studies The college and a distinguished attendance of college students and graduates who are interested in the field of securities and stock exchange business.
Present at the seminar:
- Mr./ Ahmed Abu Al-Saud - Member of the Board of Directors of the Egyptian Stock Exchange and Managing Director of Azimut Egypt Group for managing funds and stock portfolios.
- Mr. Ahmed Morshed - the investment advisor for Azimut Egypt Group for managing funds and stock portfolios.
Where the symposium included, in its first session, an explanation of investment methods, and Mr. Ahmed Morshed explained - how to deal with the different ways of investing and why you should become an investor.
The second session discussed the first steps that contribute to the qualification of the certified financial analyst, as Mr. Ahmed Abu Al-Saad spoke about the most important steps for the qualification of the certified financial analyst, explaining the training programs that help in qualifying graduates interested in this field.
Prof. Dr. Samah Tarek Hafez stressed the importance of such seminars, which help in qualifying students and add to the graduates to help them choose the appropriate path in the various fields of the labor market.
Prof. Dr. Saad Mutawa added that the Egyptian Stock Exchange is one of the first global stock exchanges, stressing the importance of the stock market and securities in the coming period.
On his part, Prof. Dr. Tarek Ghallush - Dean of the College - welcomed the attendees, stressing the college administration's interest in providing all kinds of training courses in the field of stock exchange and securities that help prepare students for the labor market, through the various training centers in the college. Emphasizing the provision of all academic and scientific support to the college graduates, through the alumni unit of the college, which seeks to link the graduate with the requirements of the labor market. He concluded his speech by expressing sincere thanks and appreciation to the lecturers at the symposium.
On the sidelines of the symposium, a field tour of the halls of the virtual bank, the virtual stock exchange and the online examination hall was held.